PROGRAMM
Werke von / Works by Cymin Samawatie, Ketan Bhatti und Improvisationen
Related Sites
INFO
Zum Saisonauftakt 2022 präsentiert KONTRAKLANG das Berliner Trickster Orchestra – ein Kollektiv, das wie derzeit kein zweites stilsicher auf der Suche nach einer nicht nur zeitgenössischen, sondern zeitbezeugenden Klangsprache ist. Ausgehend von der Annahme einer postexotischen Gegenwartskultur entwirft das Trickster Orchestra eine neue Musik, die Genres und Kulturen ganz selbstverständlich transzendiert. Traditionen und instrumentale Fertigkeiten werden zu Werkzeugen für Improvisationen, die musikalische Innovationen auslösen. Auf diese Weise eröffnet das Orchester in seinen Konzerten völlig neue Klangerfahrungen für Musiker*innen und Publikum gleichermaßen. Das Kollektiv vereint hochkarätige Instrumentalist*innen aus den Bereichen elektronischer und Neuer Musik, globalen klassischen Musiktraditionen, Jazz, Weird Pop und freier Improvisation. Im Gruppenklang fusionieren diese Einflüsse nicht einfach nur, sondern sie entdecken im gemeinsamen Spiel eine geteilte, gänzlich gegenwärtige musikalische Sprache. 2021 erschien auf ECM Records die erste, selbstbetitelte Veröffentlichung des Trickster Orchestra. Auf dem Album fügen poetische Texte aus der arabischen, persischen, türkischen und hebräischen Tradition den Stücken eine weitere klangliche Farbe hinzu. Beides, Musik und Lyrik, verdichten kulturelle, historische und spirituelle Wahrheiten die weit über die Zeit und den Ort ihrer Entstehung hinausdeuten. Bei Kontraklang ist Trickster mit einem abendfüllenden Programm zu hören, das sowohl Musik aus dem Album als auch Repertoirestücke enthält.
For the start of the 2022 season, KONTTAKLANG presents the Berlin Trickster Orchestra – a collective that, like no other at present, is stylistically confident in its search for a sound language that is not only contemporary but truly testifies to the times. Based on the assumption of a post-exotic contemporary culture, the Trickster Orchestra designs new music that transcends genres and cultures as a matter of course. Traditions and instrumental skills become tools for improvisations that trigger musical innovations. In this way, the orchestra opens up completely new sound experiences in its concerts for musicians and audiences alike. The collective brings together top-class instrumentalists from the fields of electronic and new music, global classical music traditions, jazz, weird pop, and free improvisation. In the group sound, these influences do not simply fuse but discover a shared, wholly contemporary musical language in their joint playing.
In 2021, the Trickster Orchestra's first self-titled release appeared on ECM Records. On the album, poetic texts from the Arabic, Persian, Turkish and Hebrew traditions add another sonic colour to the pieces. Both music and poetry condense cultural, historical and spiritual truths that point far beyond the time and place of their creation. At Kontraklang, Trickster can be heard with an evening-long programme that includes music from the album as well as repertoire pieces.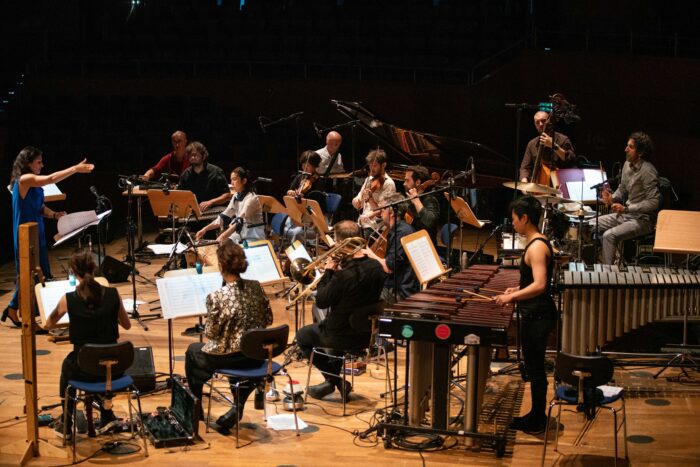 Tickets
Vorverkauf: 13,60 €/ erm. 10 € (inklusive VVK-Geb.) online bei der ticketbu.de
Abendkasse: 15€/ erm. 12€, ab 19:30
Bitte informieren Sie sich vor Ihrem Besuch auf der Homepage von Villa Elisabeth über die aktuell geltenden Maßnahmen und Regeln zur Covid19-Prävention.
Presale: 13,60 €/ reduced 10 € (inclusive presale fees) online at ticketbu.de
Box-office: 15€/ reduced 12€, from 19:30
Please check the Villa Elisabeth homepage for the current Covid19 prevention measures and rules before your visit.