PROGRAMM
17:30-19:45 UHR, WOHNUNG, ECKE ISARSTRASSE / FLUGHAFENSTRASSE
Henry Andersen: Apartment Story, Klangintervention & -installation (UA)
20:00 HEIMATHAFEN NEUKÖLLN
Les Femmes Savantes
Blind Date für Trompete, Stimme und Elektronik (UA)
Whiskey, Wasser, Tee für drei Saiteninstrumente
Splash – with jumping objects and video (UA)
ripped flax für Objekte, Trompete, Innenklavier, Elektronik und Stimme (UA)
jardin d'ocre für Trompete und Elektronik
xlr-female
Heimatsammlung. Eine demografische Orchestrierung Neuköllns für vier Performerinnen und mehrkanalige Lautsprechersysteme (UA)
HENRY ANDERSEN
LES FEMMES SAVANTES
Sabine Ercklentz – Trompete, Elektronik
Hanna Hartman – Objekte, Elektronik
Andrea Neumann – Innenklavier, Mischpult
Ana Maria Rodriguez – Elektronik
Ute Wassermann – Stimme, Objekte, Elektronik
XLR-FEMALE
Liz Allbee – Komposition, Textgenerierung, Stimmme
Anouschka Trocker – Komposition, Textgenerierung, Stimmme
Antje Vowinckel – Komposition, Textgenerierung, Stimmme
Steffi Weismann – Komposition, Textgenerierung, Stimmme, Video
Related Sites
INFO
HENRY ANDERSEN: APARTMENT STORY
Jeder Bewohner einer Wohnung weiß, dass viele Geräusche die Wände durch- und in Räume eindringen, in die sie nicht eingeladen wurden. Geräusche oder Klang erlauben uns genaue Kenntnisse der Gewohnheiten unserer Nachbarn, selbst wenn wir mit ihnen kaum mehr als ein knappes Nicken im Treppenhaus austauschen. Per Geräusch dringt jeder Raum in einem Gebäude in diejenigen Räume vor, von denen er umgeben ist. Geräusche unter Nachbarn sind Mittel, den eigenen privaten Bereich zu bewohnen oder die der anderen zu negieren. Geräusche als solche sind immer politisch.
'Apartment Story' ist eine Kunstaktion des Komponisten Henry Andersen in einer Altbauwohnung im Flughafenkiez Neukölln. Das Stück besteht aus einer Reihe Aufnahmen eines Laienchors aus Bewohnern des betreffenden Gebäudes. Diese Aufnahmen werden über ein mehrkanaliges Lautsprechersystem in der Wohnung abgespielt.
LES FEMMES SAVANTES
Das Composer/Performer Ensemble Les Femmes Savantes hat in den 10 Jahren seines Bestehens eine eigene klangliche Identität im Bereich der elektro-akustischen und performativen Musik entwickelt. Jede der Beteiligten ist in wechselnden Rollen als Komponistin, Kollaborateurin oder Interpretin aktiv.
Übergeordnetes Thema für das Konzert bei Kontraklang ist das Bilden verschiedener Netzwerke:
Die Vernetzung der Performerinnen untereinander und mit ihren Klangerzeugern, die Vernetzung von Klangquellen im Raum und die Vernetzung von visuellem, klingendem und sensorischem Erleben. Dabei verwischen die Grenzen der einzelnen Entitäten sowie eine eindeutige Relation von Ursache und Wirkung.
XLR-FEMALE: HEIMATSAMMLUNG
Fast auf jeder Info-Seite über Neukölln begegnet sie einem: die statistische Torte.
Ein Versuch, auf kleinstem Raum die große Vielfalt des Bezirks abzubilden – Ausländer, Arbeitslose, Altersdurchschnitt usw.
Diese Torten haben uns zu einer akustischen Umsetzung inspiriert. Dafür haben wir die Nationalhymnen sämtlicher in Neukölln lebender Nationen gesammelt und Musik und Texte nach statistischen Kriterien ausgewertet. So bestimmen z.B. die Anzahl der Einwohner pro Nation, die Entfernung zu Deutschland und die Städtepartnerschaften Frequenzen und Resonanzen.
HENRY ANDERSEN: APARTMENT STORY
It is news to no one who has lived in an a apartment building that sound
travels through thin walls and dwells in spaces it is not invited.
Through sound, one can know their neighbours intimately without ever
exchanging more than a polite nod in the stairwell. Through sound, each
room and each apartment of a building penetrates and receives those
spaces around it. Sound, shared between neighbours is a means of
inhabiting and negotiating one's private space and, as such, it is
always political.
'Apartment Story' is an intervention by composer Henry Andersen into a
domestic Altbauwohnung in Flughafenkiez. The piece consists of a number
of recordings from an amateur choir, formed of neighbours and
inhabitants of the building, which play back through multiple speakers
in a private apartment.
LES FEMMES SAVANTES
The composer/ performer ensemble Les Femmes Savantes has during its 10 years of existence developed their own identity in the field of electro-acoustic and performative music. Each one of its members is active in alternating roles as composer, collaborator, and interpreter.
The overarching theme for the concert at KONTRAKLANG is the image of various networks:
The networking between the performers and with their sound-producing tools; the networking of sound sources in space; and the networking of visual, sounding, and sensory experiences. In this way the borders between the separate entities, as well as the unambigiuos relation between cause and effect, is blurred.
XLR-FEMALE: HEIMATSAMMLUNG
Almost every info-site about Neukölln has one: a pie chart. An attempt in a tiny space to show the diversity of the neighborhood – foreigners, unemployment, median age, and so on.
These charts have inspired us to realize Neukölln's diversity acoustically. To that end we have gathered the national anthems of countries whose emigrants live in Neukölln and selected music and texts according to statistical criteria. Thus for example the number of inhabitants per nation, their distance to Germany, and sister cities correspond to frequencies and resonances.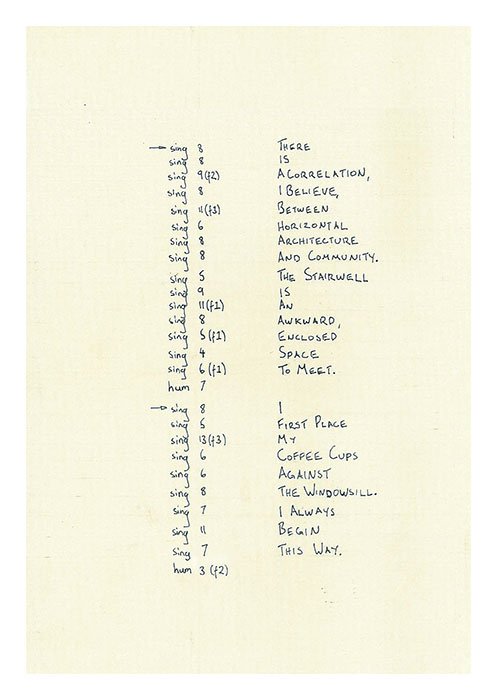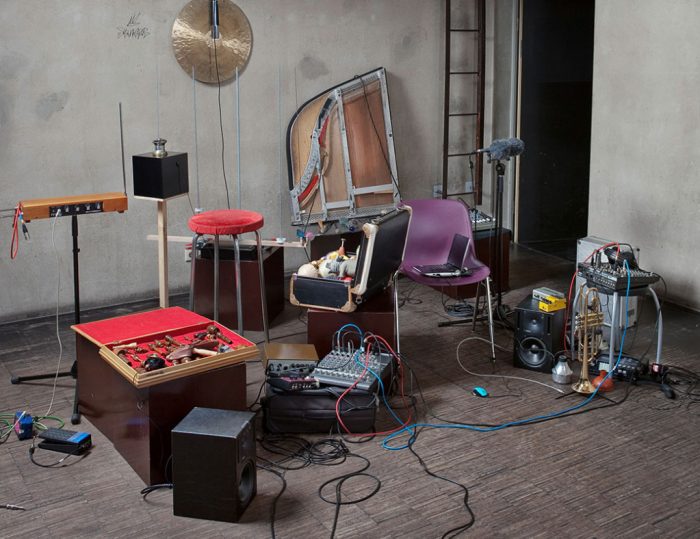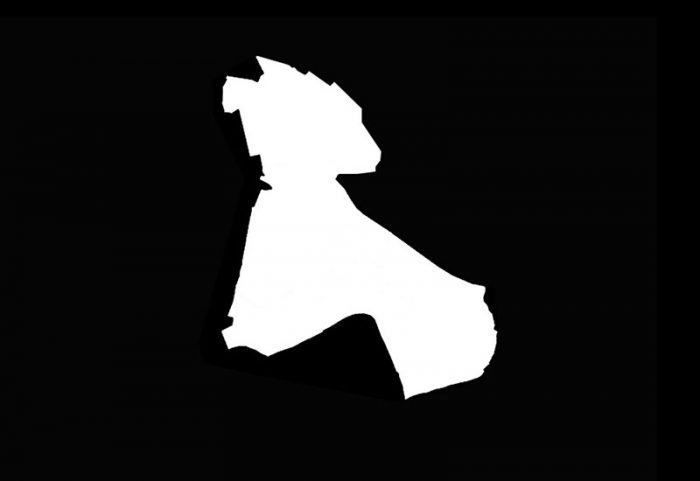 Tickets
Apartment Story: Eintritt frei
Heimathafen
Vorverkauf: 11 €, ermäßigt: 9 €
Abendkasse: 13 €, ermäßigt: 10 €
Sonderpreis für die Besucher von Apartment Story!
VVK im Heimathafen Neukölln (ohne Gebühren) | Karl-Marx-Straße 141, Vorderhaus, 3. Stock | Mo. bis Fr. von 10 bis 17 Uhr
Infos 030. 56 82 13 33
karten@heimathafen-neukoelln.de
Apartment Story: free
Heimathafen
Presale: 11 €, reduced: 9 €
Box office: 13 €, reduced: 10€
Special price for Apartment Story visitors!
Presale in Heimathafen Neukölln (no additional charges) | Karl-Marx-Straße 141, Front building, 3rd Floor | Mo. – Fr. 10am to 5pm
Infos: 030. 56 82 13 33
karten@heimathafen-neukoelln.de