PROGRAMM
Splitter Orchester: raumspezifische Improvisation
Felix Kubin: Lichtsplitter (2016, übersetzt Diagram 2)
Felix Kubin: Lückenschere (2016, übersetzt Diagram 1)
–Pause–
Ignaz Schick: Nilreb Variations (2017/18, UA) for Splitter Orchester
Felix Kubin: DJ-Set
SPLITTER ORCHESTER: Liz Allbee, Trompete | Boris Baltschun, Elektronik | Burkhard Beins, Perkussion | Anthea Caddy, Violoncello | Anat Cohavi, Klarinette | Mike Majkowski, Kontrabass | Mario de Vega, Elektronik und Objekte | Axel Dörner, Trompete | Kai Fagaschinski, Klarinette | Robin Hayward, Tuba | Steve Heather, Perkussion | Chris Heenan, Kontrabassklarinette | Matthias Müller, Posaune | Magda Mayas, Clavinet | Andrea Neumann, Inside Piano | Morten J. Olsen, Perkussion | Simon James Phillips, Klavier | Julia Reidy, Gitarre | Ignaz Schick, Turntables und Live-Elektronik | Michael Thieke, Klarinette | Clayton Thomas, Kontrabass | Sabine Vogel, Flöten | Biliana Voutchkova, Violine | Marta Zapparoli, Elektronik und Tonbandgeräte
FELIX KUBIN: Elektronik und Turntables
Related Sites
INFO
Das Splitter Orchester als größter Klangkörper der Berliner Echtzeitmusikszene vereint 24 hochkarätige und international renommierte Composer-Performer, die im Kollektiv mit jedem Konzert den Bereich zwischen musikalischer Avantgarde, Free Jazz, Geräuschmusik und Improvisation neu definieren. Die Musik entsteht unmittelbar im Moment und lässt die Zuhörer*innen auf einzigartige Weise an dieser Entstehung teilhaben. Seit seiner Gründung hat das Ensemble auch immer wieder mit Komponist*innen und externen Composer-Performern gearbeitet, die Werke für die spezielle Besetzung des Splitter Orchesters geschrieben haben oder auf andere Weise mit seiner musikalischen Praxis in Austausch getreten sind.
KONTRAKLANG präsentiert das Splitter Orchester im Rahmen des Eröffnungskonzerts des zweiten Berliner Monats der zeitgenössischen Musik zum ersten Mal gemeinsam mit dem Multiinstrumentalisten und musikalischen Grenzgänger Felix Kubin. 2016 erschien die Split-LP von Kubin und Splitter Orchester, Shine on you crazy diagram, auf dessen eigenem Label, Gagarin Records. Darauf zu hören waren Kollektivimprovisationen des Orchesters, die Kubin unter Zuhilfenahme ausgefeilter Elektronik in seine ganz eigene, experimentelle Klangsprache übersetzte. Im Konzert werden neben zwei dieser Übersetzungen von Felix Kubin eine neue, raumspezifische Improvisation des Splitter Orchesters zu hören sein. Mit Nilreb Variations (2017/18) von Ignaz Schick gelangt darüber hinaus ein eigens für das Splitter Orchester geschriebenes Werk des Berliner Komponisten und Turntable-Künstlers zur Uraufführung. Den Abend beschließt ein eklektizistisches DJ-Set von Felix Kubin, das mit abstrakten Sounds irgendwo zwischen Retro-Futurismus und Dada-Pop zum Zuhören und Tanzen einlädt.
Vom 31. August bis 30. September 2018 präsentiert field notes zum zweiten Mal den Monat der zeitgenössischen Musik: In Konzerten, Performances, Klanginstallationen und Künstlergesprächen kann die Berliner zeitgenössische Musikszene in all ihrer Vielfalt entdeckt werden – sowohl in den großen Konzerthäusern als auch in den zahlreichen freien Spielstätten.
As the largest ensemble in Berlin's Echtzeitmusik scene, Splitter Orchestra brings together 24 world-class composer-performers who with every concert collectively redefine the area between avantgarde, free jazz, noise and improvisation. Since its founding in 2010, Splitter has often collaborated with external composers and composer-performers who have written for the group's unique lineup or otherwise entered into exchanges with them.
KONTRAKLANG presents Splitter for the first time with multi-instrumentalist and border crosser Felix Kubin, in the opening concert of the second Berlin Month of Contemporary Music. In 2016, Splitter and Kubin's split LP Shine on you crazy diagram came out on Kubin's own Gagarin Records, featuring free improvisations by the orchestra and Kubin's scrambled electronic "remix" of this material. At KONTRAKLANG, in addition to two of Kubin's live remixes, Splitter will offer a new, site-specific improvisation and a premiere performance of Nilreb Variations (2017/18) by Splitter member and turntablist Ignaz Schick. The evening ends with an eclectic DJ set by Kubin, including abstract but infectiously danceable sounds between retro-futurism und Dada pop.
From 31 August through 30 September 2018, field notes will present the second annual edition of the Month of Contemporary Music: concerts, performances, sound installations, and artist talks in venues large and small that invite listeners to discover Berlin's contemporary music scene in all its dynamic diversity.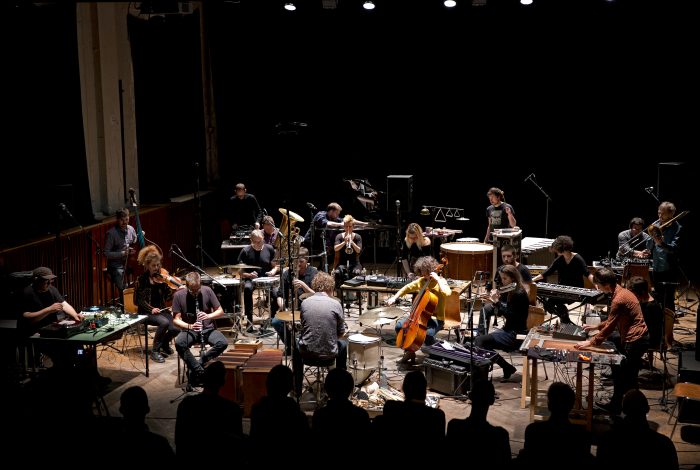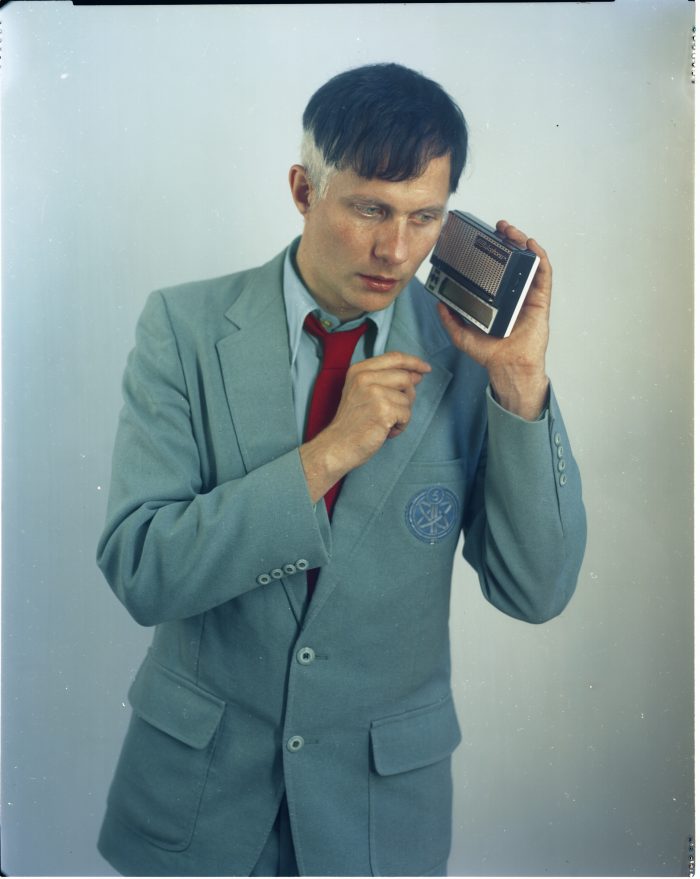 Unterstützung
Mit freundlicher Unterstützung
Partner
Tickets
Vorverkauf: 13 €, ermäßigt: 9 € (inkl. VVK-Gebühr) – Nur Online
Abendkasse: 15 €, ermäßigt: 10 € (inkl. VVK-Gebühr)
Die Vorverkaufspreise gelten bis 1 Tag vor der Veranstaltung. Am selben Tag gilt der Abendkassen-Preis.
Abendkasse ab 18:00 Uhr bis Vorstellungsbeginn
Tel 56 82 13 40 oder karten@heimathafen-neukoelln.de